Z Tags Z1 No-Snag Cow Tags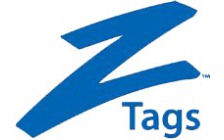 Fast, easy and safe to apply, these one piece tags deliver superior retention, using a flexible material ensuring that the tag will not snag and pull out, or break off. The tag has received global recognition for its retention. A unique surgical cutting tip reduces the risk of infection and promotes fast healing.
The tags are available in three sizes: maxi, large and medium. The maxi size hangs low for maximum visibility from the front and back. These tags are suitable for cattle, sheep and deer.
Designed for superior retention with a flexible material ensuring that the tag will not snag and pull out, or break off
Exclusive self-piercing tag tip makes a clean, precise incision to promote faster healing
Outstanding readability, with dark printing and a long neck making the tag easier to read from front or back
Fast, easy and safe to apply
Suitable for all animals
Attach the ear tags easily with the Z Tag No-Snag-Tag Applicator