Y-Tex 3-Star Blank Ear Tags Medium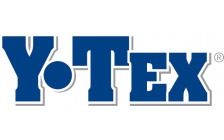 Two-piece ear tag system with Snap-Lok™ collar for superior retention. More flexible polyurethane materials plus sloped shoulders reduce snagging loss. Quick, straight-line tagging - no bent pins. Each button penetrates only one ear; can't spread infection. Longer shaft to enhance air circulation around incision site for faster healing. 2-1/2"Wx3-7/8"H.

The 3* Medium 2 Piece Tag can be used on cows or calves.
It has an area 2 1/2" wide and 1 1/2" high that can be used for your numbers or logos.
These tags can be applied with the Ultra Tagger Plus or Ultra Tagger Compact Applicator.
This item consists of 25 tags and 25 buttons.