Register To Win A Year Supply Of Natural Balance Pet Food!
Vita Flex MSM Ultra Pure Joint Health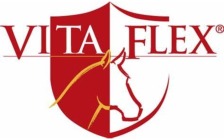 Help your four-legged friends get a leg up on joint health with Vita Flex Pro MSM Quality Joint Supplement for Horses, Dogs and Cats. This joint supplement can be used to help combat inflammation, improve circulation and relieve the symptoms of arthritis. It contains ultra-pure methylsulfonylmethane, a naturally occurring source of bioavailable sulfur. Sulfur is a component of glucosamine and collagen and is important for connective tissue health. Sulfur is also important for keratin in hair, skin and hooves, and it aids membrane health and functions as an antioxidant, too. Ideal for horses, dogs and cats, this supplement is more than just an arthritis supplement—it's a winning choice for joint health at any life stage!
Ultra-pure MSM supports joint health.
MSM is an organic sulfur found in all living things.
May help to reduce joint inflammation and pain.
White granules are odorless for easy feeding.
Suitable for your horses, dogs and cats.
Ingredients:

Active Ingredient: Methylsulfonylmethane (Msm),10,000 mg/scoop.
Feeding Instructions:

Horses: Give one scoop twice daily for the first 7 days. Give one scoop thereafter for daily maintenance, or as directed by veterinarian.
Dogs and Cats: Give recommended level twice daily for the first 7 days, reduce to once daily for maintenance. Give dry or dissolved in lukewarm water first.