Register To Win A Year Supply Of Natural Balance Pet Food!
Van Sickle Tractor, Equipment & Industrial Primer Spray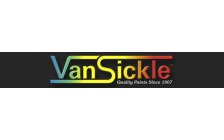 Van Sickle Tractor, Equipment and Industrial Enamel Primer was developed for durability and service. When combined with the finish coat, is specifically formulated to provide easy application, excellent adhesion, superior resistance to rust and corrosion.
For use on new or prepared metal surfaces prior to painting Van Sickle's Tractor and equipment enamel finish coats. This primer self-levels and provides extra protection against rust and corrosion. It is an ideal primer for Farm Equipment, Machinery, tools, vehicles and industrial applications.
12 oz
Formulated for use under our tractor and equipment finish coats
Outstanding adhesion to metal and previous paint finishes