Register To Win A Year Supply Of Natural Balance Pet Food!
Van Sickle Tractor, Equipment & Industrial Enamel Gloss Spray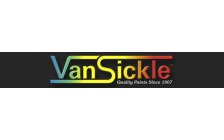 Van Sickle® Tractor, Equipment & Industrial Enamel is our super premium quality, rust resistant enamel, custom-designed for use in shop applied and industrial applications. It is formulated to provide outstanding durability, high hiding, excellent flow, high gloss and excellent fade resistance.
This formulation is an ideal topcoat for farm equipment, machinery, tools, vehicles, and industrial applications where a tough, durable finish is required. Not intended for residential use.
12 oz
8 to 12 hour dry to re-coat allows for over-night dry to re-coat
Contains "rust arrestor" for better corrosion resistance