Want to setup a bee-hive at your home? Get started here.
Terrain D.O.G. X-Treme Adventure Brahma Dog Collar

$12.99
15", 3/4", Hurricane Blue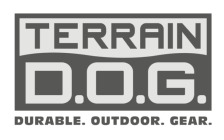 Our X-Treme Adventure Dog Collars are constructed from rugged Brahma Webb® for ultimate durability and performance. Weather-resistant, low-maintenance, and easy-to-clean, Brahma Webb® performs flawlessly in any terrain and looks great while doing it. Featuring a durable anodized aluminum dee and coordinating buckle, these collars are made for the most adventurous dogs.
Care Instructions
Wipe clean with damp cloth
Wash with mild soap if desired
Air dry
Details
Made from rugged Brahma Webb® for ultimate durability and long-lasting performance in any terrain
Brahma Webb® is weather-resistant, low-maintenance, and easy-to-clean
Features a durable anodized aluminum dee and a coordinating buckle