Register To Win A Year Supply Of Natural Balance Pet Food!
Tarter 100 Series Rotary Cutter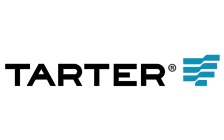 Tarter's Rotary Cutter is the perfect solution for mowing backfields, creating riding and walking trails, and clearing paths for wildlife management. Depend on this implement to cut grass, stalks and light brush with ease. The durable heat-treated blades have a one-inch thick cutting capacity to easily take care of small limbs and branches. In case you run over something bigger, a stump jumper lifts the mower up and over rocks or obstacles, avoiding damage to the gearbox and blades.
Hitch Type: Cat 1
Item #: RC104BL
Weight: 463 lbs.
Cutting Width: 48″
Overall Width: 51"
Overall Length (Including Tailwheel): 77″
Deck Height: 7.5″
Cutting Height: 1.5-9"
Cutting Capacity: up to 1"
Horsepower: 18-45
Power Take-Off Speed: 540
Gearbox: 45 hp cast iron housing, precision forged steel gears
Gearbox Lubrication: EP 80-90W gear oil
Gearbox Lubrication Capacity: 23 oz
Deck Material Thickness: 12 Ga.
Stump Jumper: 1/8" Thick, Round 22.3" pan-type
Blades: 1/2"x3" Heat Treated Free Swinging w/ Suction Lift
Blade Tip Speed: 9,982 ft./min.
Driveline: ASAE Cat 4 Shear Bolt Protection
Tailwheel: 15" Laminated Tire
Safety Guards: Optional Rubber Front/ Metal Rear
Blade Bolt Size: 42mm socket
Shear Bolt: 1/2" x 3-1/2" Grd 2 Hex Bolt
Castle Nut on Gearbox: 38mm socket