Register To Win A Year Supply Of Natural Balance Pet Food!
Absorbine SuperShine Hoof Polish & Sealer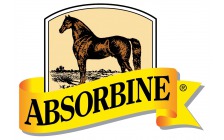 North America's best-selling horse hoof polish gives hooves a magnificent, mirror-like finish. Its quick-drying formula helps prevent dirt and dust from settling on the show-winning shine, and it rubs off in a week during a horse's normal activity.
Creates a super high-gloss finish
Features a quick-drying formula—less than 60 seconds
Does not penetrate beyond the surface of hoof wall
Seals out excess moisture to help harden soft hooves