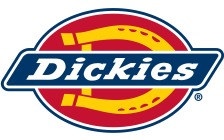 Dickies at Shipton's Big R
Since 1922, Dickies has been producing long lasting and performance proven workwear. You'll find all the function and purpose needed to outlast the demands of your outdoor farm and ranch work in time tested gear. Discover optimal performance-proven gear to match the demands of your workday.
Outerwear
Outerwear proven to perform with enhanced protection from wind and weather.
Tops
Dickies Tops feature performance driven fabrications with functional design elements that stand up to outdoor work.
Bottoms
Whether your work calls for a sturdy denim, Duck or twill construction, Dickies bottoms are designed to function and perform.
Women's
Dickies women's workwear offers top of the line gear that is engineered to enhance your performance and protection.
FLEX
Designed with a superior FLEX fabrication, you'll achieve maximum comfort and functionality.
Perfect Shape
Dickies Perfect Shape Collection offers soft, performance proven jeans and pants that deliver the ideal fit.