Register To Win A Year Supply Of Natural Balance Pet Food!
Roundup Weed & Grass Killer Super Concentrate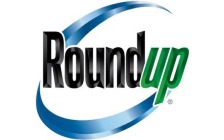 The economical, effective way to handle larger areas, Roundup Concentrates are simple to prepare and use and they deliver all the weed-control power you expect from the Roundup brand. With the best Roundup brand concentrate value for widespread weed problems, Roundup Weed and Grass Killer Super Concentrate is perfect for use around flowers, shrubs and trees, on patios, walkways, driveways, gravel areas and mulch beds and along fences, edging and foundations. It is also effective on large areas such as lawn replacements or garden plot preparation.
For use in tank sprayers




For use around flowers, shrubs and trees; on patios, walkways, driveways, gravel areas and mulch beds; along fences, edging and foundations; as well as large areas such as lawn replacements or garden plot preparation.

For best results, add 2.5 fl. oz. of the concentrate to 1 Gal. of water in a Roundup Brand Premium Sprayer. The formula is rainproof in 30 minutes and you can see results fast as weeds usually yellow and wilt in 2-4 days.


Rainproof in 30 minutes

Weeds usually yellow and wilt in 2-4 days
Ingredients: