Register To Win A Year Supply Of Natural Balance Pet Food!
Nucor Studded T-Post 1.33lb per foot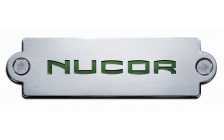 Nucor T-Posts provides you a high quality, durable post at a price that can support any fencing project regardless of the size. Rail steel, produced from iron ore, has very low levels of the elements needed for weather resistance – copper, nickel and chromium. Scrap metal naturally contains significant amounts of these elements (ASTM G101), giving NuPost™ up to seven times the weathering resistance of rail steel fence posts. Only NuPost™ fence post systems offer the unique combination of the key factors of superior fence post performance – strength, ductility and weather resistance at no added cost.

Because Nucor uses 100% recycled scrap as raw material, they can control the chemistry of the steel they melt and the billets they cast. Nucor Utah developed a special chemistry specifically for NuPost™ fence posts that features lower carbon content, but includes a small amount of vanadium (commonly used in very high-quality alloy steels). This gives NuPost™ the strength of rail steel (ASTM A499) combined with a greater ductility.

Made in the USA
100% recycled scrap steel content
Studs spaced uniformly along length of post
Uniquely shaped for added stability
Bottom to Top of Anchor Measurement - approximately 15"
Get 5 FREE T-Post clips with every post you purchase