Register To Win A Year Supply Of Natural Balance Pet Food!
Nucor Studded T-Post 1.25lb per foot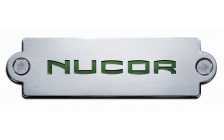 Rail steel, produced from iron ore, has very low levels of the elements needed for weather resistance– copper, nickel and chromium. Scrap metal naturally contains significant amounts of these elements (ASTM G101), giving NuPost up to seven times the weathering resistance of rail steel fence posts. Only NuPost™ fence post systems offer the unique combination of the key factors of superior fence post performance– strength, ductility and weather resistance at no added cost.

Because Nucor uses 100% recycled scrap as raw material, we can control the chemistry of the steel we melt and the billets we cast. Nucor Utah developed a special chemistry specifically for NuPost fence posts that features lower carbon content, but includes a small amount of vanadium (commonly used in very high-quality alloy steels). This gives NuPost the strength of rail steel (ASTM A499) combined with a greater ductility.
Made in the USA

100% recycled scrap as raw material

Lower carbon content

Studs spaced uniformly along length of post

Uniquely shaped for added stability

Strength, ductility and weather resistance

Get 5 FREE T-Post clips with every post you purchase