Want to setup a bee-hive at your home? Get started here.
Mustang Black Shooter Cinch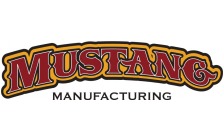 Straight, black nylon cinch with removable PVC backing and nickel-plated hardware. PVC moves with the horse to help prevent chaffing and soreness. The PVC back detaches from the nylon webbing for quick and easy cleaning. 3″ Nickel-plated straight pull buckles and 1″ nickel-plated dees.
3″ Nickel-plated straight pull buckles
1″ nickel-plated dees
28" Cinch