Kinco Women's Pearl Premium Grain Goatskin Driver Gloves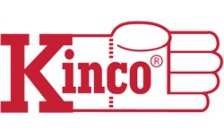 Naturally soft & supple pearl premium full grain goatskin provides excellent durability paired with ample dexterity & pliability. Easy-On cuff with shirred elastic wrist facilitates quick on & off use, while tightening the shell material to the hand for a secure fit & providing an additional preventative measure to block debris from further entering the glove. Pieced leather hem incorporates an added piece of material, which creates a finished look & prevents fraying.

Out-seam index finger provides the smooth, comfortable feel of a seamless interior & eliminates rub points that often accompany bunched material typically inside the glove. Leather welt at high-contact base of middle & ring fingers reinforces seam strength & durability. Ergonomic keystone thumb design, which includes an extra sewn-in piece of material, offers flexible, full-range of motion & helps to prevent hand fatigue.