Want to setup a bee-hive at your home? Get started here.
Harvest King Trans-Hydraulic Fluid for John Deere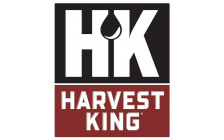 HARVEST KING TRANS-HYDRAULIC Oil FOR JOHN DEERE EQUIPMENT is a high quality, specially designed lubricant containing antirust, anti-foam and oxidation inhibitors; plus other additives necessary for the wide range of applications recommended by various tractor manufacturers. The product is an "all-season" type of oil that resists thickening in cold weather and thinning in the heat of the summer.
It is compounded with detergents to keep transmissions clean and maintain hydraulic control circuits in perfect working condition; and provides excellent protection against seal and pump deterioration. Operators, especially farmers, will appreciate the multipurpose application of HARVEST KING TRANS-HYDRAULIC OIL FOR JOHN DEERE EQUIPMENT requiring J20C specification for transmissions, final drives, and hydraulic systems of tractors. Check owner's manual for proper lubricant selection.


Excellent gear, bearing and pump wear protection
Multi-functional fluid
Oxidation and thermal stability for long life
Excellent rust and corrosion protection
Reduces brake chatter
Compatibility with oil seal materials used in transmission and hydraulic systems