Harvest King Ford Type F Automatic Transmission Fluid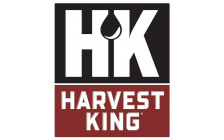 HARVEST KING TYPE F ATF is blended with highly refined base oils and a specially balanced additive package that combine to give outstanding performance in the areas of high temperature oxidation resistance, corrosion and rust protection, dispersancy and detergency. It is a non-friction modified fluid. HARVEST KING TYPE F ATF meets the requirements of Ford specifications M2C33-F and M2C33-G and is recommended for use in all Ford passenger car automatic transmissions prior to the 1977 models as well as many 1977 through 1980 models.
Please check the recommendation in the owner's manual or transmission dipstick to determine the correct fluid, as misapplication may cause severe performance problems. It may also be used in power steering units or wherever a Type F fluid is recommended. Not for use where any MERCON® fluid is required.
Meets the requirements of Ford specifications M2C33-F and M2C33-G and is recommended for use in all Ford passenger car automatic transmissions prior to the 1977 models as well as many 1977 through 1980 models.
Protects against wear, rust, foam, and leaks
Extends the life of your equipment