Want to setup a bee-hive at your home? Get started here.
Apache Green PVC Suction Hose Assembly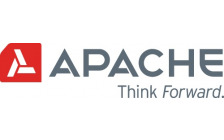 An economical and versatile general service, style G, suction and discharge hose used for pumping water and light chemical solutions in the construction, rental, agricultural, and irrigation industries. The PVC helix increases flexibility and abrasion while the smooth interior provides maximum flow. Complete assembly with male x female aluminum pin lug short shank couplings with brass spinner nut. Attached with smooth ID preformed bands to ensure a tight seal.
Item # 98128005
Inside Diameter (in): 1-1/2
Inside Diameter (mm): 38.1
Outside Diameter (in): 1.81
Outside Diameter (mm): 45.97
Maximum PSI: 70
Minimum Bend Radius (in): 5
Fittings: Male x Female Aluminum Pin Lug
Temperature Range: -10°F to 130°F
Cover Material: PVC
Cover Color: Green
Tube Material: PVC
Tube Color: Green
Reinforcement: Poly Helix
Negative Pressure / Vacuum Rating (in/HG): 30
Weight (lbs): 7.5 / Each
Style: Coiled