Register To Win A Year Supply Of Natural Balance Pet Food!
Flexzilla ZillaGreen SwivelGrip Hose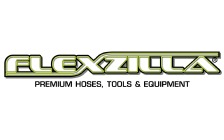 Flexzilla makes it easier to work around your home and lawn. SwivelGrip action eliminates twists that occur when uncoiling a hose. Conventional garden hose can trap coils that tighten into kinks as you move across the yard. SwivelGrip releases these trapped coils because the hose rotates freely inside the grip. The large, comfortable gripping surface on both ends of the hose makes connections much easier to turn and tighten. SwivelGrip hoses are also drinking water safe.
5/8in. diameter, 100 length
SwivelGrip makes connections easy
Flexible hybrid polymer material is lightweight and won't kink under pressure
Male and female SwivelGrip connections
Hose rotates inside grip and naturally releases coils
SwivelGrip makes connections easy
Extreme all-weather flexibility
Won't kink under pressure
Lightweight, coils easily
Lays flat - no memory
Durable outer cover resists abrasion, UV and mold
Reinforced mid-layering provides extra strength
Anodized aircraft aluminum ends
Tight leak-free connections - O-ring seal provides secure, watertight connections
Maximum working pressure at 70°F: 150 psi
Drinking water safe