Register To Win A Year Supply Of Natural Balance Pet Food!
Farnam Wipe Original Formula Fly Protectant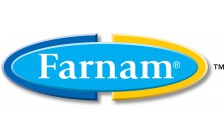 Immediate insect control that lasts for a full day. Powerful solution contains natural pyrethrins to kill horse flies, house flies, stable flies, and deer flies. Also kills and repels gnats and mosquitoes. Works for a full 24 hours and kills insects on contact. Original Wipe Fly Protectant contains 0.20% pyrethrins and easily wipes onto your horse's coat. Or, fill any standard spray bottle to mist. Also helps remove dirt, oil, and dandruff from the coat and adds a show-quality shine.
Easy wipe-on fly protectant.
Kills and repels horse, house, stable and deer flies.
Kills and repels gnats, mosquitoes and ticks to help keep horses healthy.
Helps to remove dirt and dandruff and adds a shine to the coat.
Formula has been trusted by horse owners for over 40 years.
Ingredients:
Pyrethrins, Piperonyl Butoxide, Di-n propyl isocinchomeronate, Butoxpolypropylene Glycol


Directions for Use:
SHAKE WELL BEFORE USING: Before applying Wipe® Original Formula Fly Protectant to your horse, brush him down thoroughly to remove loose dust and dirt. Moisten, but do not soak, a folded piece of Turkish toweling (approximately 12" x 15") or an applicator mitt with Wipe® Original Formula Fly Protectant. Rub briskly against the growth direction of the hair. Give special attention to the shanks, legs, shoulders, neck and facial areas of the horse where flies tend to cause the greatest problems. Add more Wipe® Original Formula Fly Protectant to the applicator as needed, applying approximately one to two ounces for the total application on a daily basis (the variance will depend on the size of the horse). Groom with a brush. To kill attached ticks, dab Wipe® Original Formula Fly Protectant directly on the tick with a saturated cloth. Do not apply over cuts, wounds, or irritated skin. Do not apply near eyes and mouth. Apply sparingly around ears.