Register To Win A Year Supply Of Natural Balance Pet Food!
Farnam Equisect Fly Repellent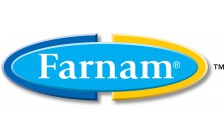 Control insects with the use of organic ingredients. Powerful formula contains PyGanic, a botanical pyrethrum insecticide safe and effective enough for use in organic farming. Also contains natural citronella, clove stem, thyme, and corn mint oils. Guaranteed to kill and repel horn, stable, horse, and deer flies, as well as lice, mosquitoes, and gnats. Suitable for use as a spray or wipe-on repellent on your horse and as a perimeter spray in the stall, barn, or stable.
For horses, ponies, dogs and cats
Repels and kills horn flies, stable flies, house flies, horse flies, deer flies, mosquitoes, gnats and lice

Water based and alcohol - free



Kills fleas and ticks on dogs and cats
Ready - to - use spray
Same great product, new packaging
Ingredients:

Pyrethrins, Deionized water, ethoxylated caster oil, oil of citronella, corn mint oil, thyme oil, clove stem oil
Instructions:

Horses and Ponies: To repel and kill Horn Flies, Stable Flies, House Flies, Horse Flies, Deer Flies, Mosquitoes and Gnats, apply Equisect™ Fly Repellent as directed below.
As a Spray: Remove excess dirt and dust. Apply a light spray mist sufficient to wet the surface of the hair while brushing lightly against the lay of the hair. Avoid spraying in eyes and mucous membranes. Apply with a sponge or soft cloth to these areas.
As a Wipe-On: Thoroughly brush horse to remove dirt and dust. Extremely dirty horses should be shampooed, rinsed and allowed to dry before applying. Use a sponge or clean soft cloth.
Apply Equisect™ Fly Repellent to point before runoff over areas to be protected. Pay special attention to legs, belly, shoulders, neck and facial areas. Avoid eyes and mucous membranes.
Repeat treatment daily or at intervals necessary to give continued protection.
To control blood-sucking lice apply Equisect™ Fly Repellent to the infested areas of the animal using a stiff brush to get the spray to the base of the hair. Repeat every 2 to 3 weeks if required.