Want to setup a bee-hive at your home? Get started here.
Dryshod Waymore Men's Rubber Boot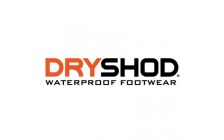 Description
Dryshod Waymore Rubber Boot 16 In. are 100% waterproof top to bottom, feature a 5mm Densoprene® Foam insulated bootie to keep out the cold & Wet and keep in the warm & dry, Hydrokote® water repellent so water rolls off and dries in seconds. 4-way stretch breathable airmesh lining tomove the air and keep your feet dry and comfortable, roll-down calf pipe to tuck in your pant leg or vent in warm temperatures, only genuine hand-laid rubber (no PVC, PU or TPR), reinforced tuck board with rigid shanks for superior stability, slipper soft comfort and sized to athletic shoe standards, and convenient back-pull tabs for easy-on/easy-off convenience.

Specifications
STANDARD FEATURES
100% waterproof
5.5 mm Densoprene foam insulated bootie
Hydrokote water repellent upper
4-way stretch breathable airmesh lining
Easy on-off
Roll-down calf pipe
Genuine natural rubber overlays
Superior stability/torsion-tuck board
Superior fit and comfort
Convenient back-pull tabs
BONUS FEATURES
Comfort range -20 to 75 degrees
16" high
Rubber compression molded outsole for grip/rugged terrain/farmyard use - great traction
Spongy EVA mid-sole for extra cushion and cold blocking
Nylon shank for support and pressure point
6 mm removable high rebound EVA sockliner
Higher rubber overlays for more protection
Heel kick for easy off