Want to setup a bee-hive at your home? Get started here.
Decker's Scotch Type Curling Comb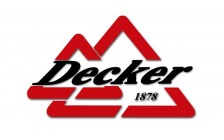 Groom your pet with the Decker 75-6 Scotch Type Curling Equine Comb. This horse body brush is built with a 6-inch blade with round-plated teeth for efficient grooming. The horse brush is designed with an ergonomic grip. The curry brush for horses features a Grip-Fit handle for a strong grip. Like all Decker equine products, this brush is proudly made in the USA.