Register To Win A Year Supply Of Natural Balance Pet Food!
Cactus Ropes Shock-N-Awe 31' Head Rope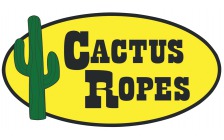 Cactus Ropes designed the Shock-N-Awe for ropers who like to reach. This is the smallest diameter rope we make, so your loops stay open and then snap shut. It's a great choice for all weather conditions and gives you an edge when roping little horns. The Shock-N-Awe's light weight makes it an excellent choice for younger or smaller ropers.
Head rope
Nylon Poly 4-strand
31' Length
Smallest diameter rope