Register To Win A Year Supply Of Natural Balance Pet Food!
Big Timber Fasteners Cement Board Screws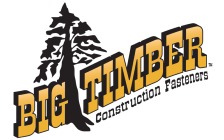 Western Builders Supply strives to be the world leader in high quality fastening solutions. They sell a wide variety of products, but their main focus is specialty construction screws and bits. They are manufactured to our specifications in ISO 9002 quality certified mills and factories.
Cement Board and High Density Sheathing Screws have been specifically designed for use with Cement board and High density exterior sheathing.

Green coating
Sharp Point
Flat head
Professional Grade
Part 1CB114S