Register To Win A Year Supply Of Natural Balance Pet Food!
Aerothotic Men's Aharon Dual Strap Slide Sandals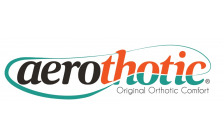 Feel comfortable while going to casual outings and outdoor works. Here we have got the right amount of comfort for the working feet. The breathable leather straps of mens slides protect your sensitive feet from rashes and blisters. The laidback Aharin (LC1411) classic mens sandals give you the option to dress them with your casual wardrobe and rock the look with a comfortable feel. You will be at ease in these dual strap mens slide sandals. The design of leather sandals men clearly shows where the curves of your feet have to settle.
100% Arch Support Dual Strap Men Sandals
Ideal for medium arches.
Weighs around 0.619 lbs/pair
Platform height measures around 0.85"
Heel height measures up to 1"
Shoe width is approximately 3.75"
Deep heel cup promotes foot stability.
Memory foam insole ensures a cushioned feel.
Original leather straps for a blister-free experience.