Want to setup a bee-hive at your home? Get started here.
Apache 300 PSI Premium Rubber Air Hose Assembly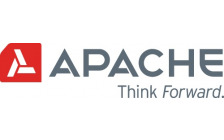 This premium quality rubber air hose has an all rubber hose with machined brass male national pipe thread fittings and bend restrictors on both ends. Its EPDM tube and cover make the hose weather resistant, abrasion resistant, and keeps it flexible at low temperatures. Ideal for use in industrial, construction, shop, and farm pneumatic tool applications.
Item # 98108942
Inside Diameter (in): 3/8
Inside Diameter (mm): 9.5
Outside Diameter (in): 0.72
Outside Diameter (mm): 18.29
Maximum PSI: 300
Minimum Bend Radius (in): 4
Fittings: 1/4" Male National Pipe Thread x 1/4" Male National Pipe Thread
Temperature Range: -40°F to 212°F
Cover Material: EPDM
Cover Color: Red
Tube Material: EPDM
Tube Color: Red
Reinforcement: 2 Spiral Textile Cord
Weight (lbs): 5.2 / Each
Style: Coiled with Retail Labeling