Want to setup a bee-hive at your home? Get started here.
Harvest King High Mileage Synthetic Blend SAE 5W-30 Motor Oil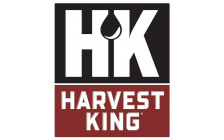 HARVEST KING HIGH MILEAGE MOTOR OILS are premium passenger car motor oils formulated to protect older engines with 50,000 miles or more. Available in SAE 5W-20, SAE 5W-30, and SAE 10W-30 viscosity grades. Blended with high viscosity index mineral oils compounded to provide protection against wear and corrosion, prevent oxidative thickening and inhibit formation of engine acids, sludge and varnish deposits. API SN PLUS helps prevent pre-ignition and wear, and provides improved cleanliness and fuel economy.
Helps reduce oil consumption and leaks

Conditions engine seals

Protects worn engine parts

ILSAC GF-5 Resource Conserving formula