Want to setup a bee-hive at your home? Get started here.
Get Ready For Grilling Season
With summer on its way, it's time to break out the grill once again and enjoy meals outdoors with family and friends. Test out your grilling chops and get adventurous with a few non-traditional recipes below!
Grilled Portobello Mushrooms
Mushrooms make a delicious lower calorie alternative to meat burgers while still maintaining that satisfactory meaty texture!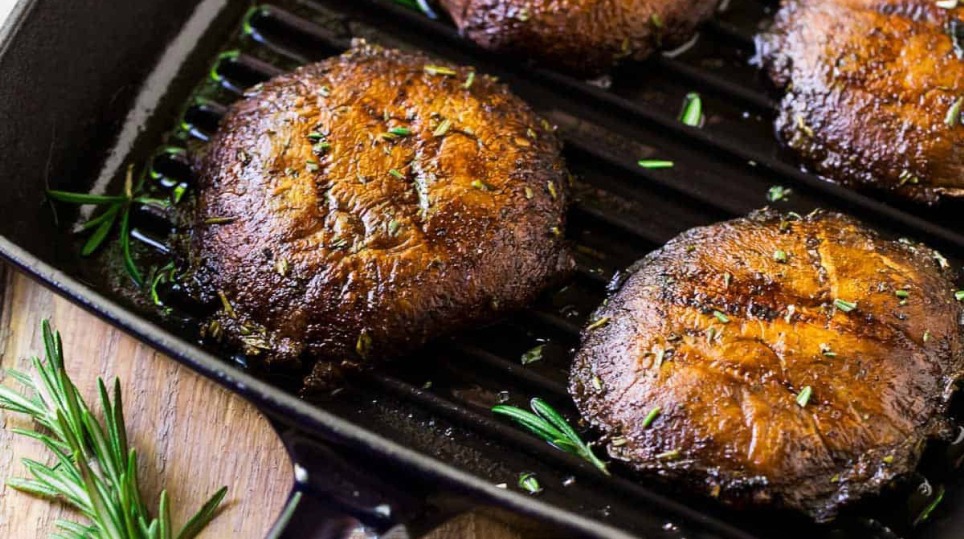 Recipe Courtesy of Well Plated
Ingredients:
4 Large Portobello Mushrooms
1/4 cup Balsamic Vinegar
1 tablespoon extra virgin olive oil
1 tablespoon low sodium soy sauce
1 tablespoon chopped fresh rosemary or 1/2 teaspoon dried
1 teaspoon garlic powder
1/2 teaspoon black pepper
1/8 teaspoon cayenne pepper optional, plus additional to taste
Canola or vegetable oil for grilling
If this is your first time 'shrooming it, fear not! You can cook these on an indoor or outdoor grill, and because we aren't fussing with internal temperatures, you don't need to stress over food safety.

To Clean Portobello Mushrooms:

Start by removing and discarding the stems. With a paper towel, gently rub off any dirt from the caps. With a small spoon, lightly scrape around the underside of the caps to remove the gills. The gills are edible but, well, weird and when you are sautéing with them, they'll turn your recipe a dark, unappetizing hue. If the gills don't bother you, you can leave them on.

The Marinade:
In a shallow dish, whisk together the marinade ingredients. Choose a dish large enough to hold the mushrooms in a single layer.
Add the mushrooms to the marinade, coating both sides. A quick 10 minutes marinade time is all you need, though you can let them go for up to 30 if you are otherwise busy drinking wine prepping other elements of the meal. Don't go longer than 30 or the portobellos will become too salty.
Grilling:
Heat a grill or a large skillet over medium heat (about 350 to 400 degrees F). Brush the grill with oil to prevent sticking.
Remove the mushrooms from the bowl, shaking off any excess marinade and reserving the marinade for basting.
Cook on each side for 3-4 minutes, or until caramelized and deep golden brown.

Brush the remaining marinade over the mushrooms several times as they cook.

Cheese-Stuffed Grilled Peppers
These stuffed peppers will go great as an appetizer and are an especially tasty complement to white wine.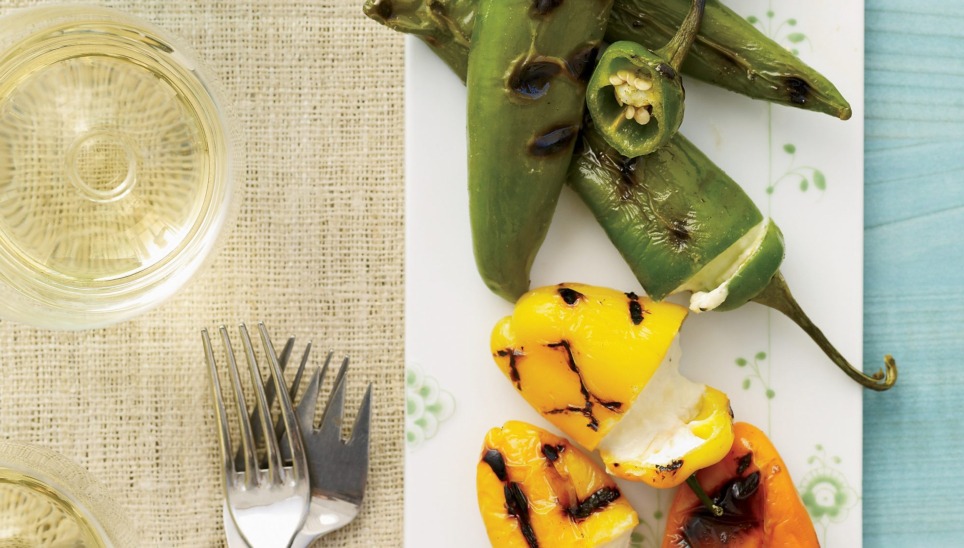 Recipe Courtesy of Food & Wine
Ingredients:
1 cup ricotta cheese (8 ounces)
1 cup cream cheese, at room temperature
1/2 cup freshly grated Parmigiano-Reggiano cheese
Salt and freshly ground pepper
4 Anaheim or Cubanelle peppers
4 baby bell peppers
4 small poblano chiles
Extra-virgin olive oil, for rubbing
The Filling:
In a medium bowl, blend the ricotta with the cream cheese and Parmigiano-Reggiano. Season with salt and pepper.
Grilling:
Light a grill or heat a grill pan. Using a small, sharp knife, remove the stems from the peppers and reserve. Cut around inside the peppers to detach the membranes and remove the seeds. Using a butter knife, fill the peppers with the cheese mixture and reattach the tops. Rub the peppers with olive oil.

Grill the peppers over moderately high heat, turning occasionally, until blistered all over and the cheese filling is piping hot, about 7 minutes. Transfer the peppers to plates and serve.