Want to setup a bee-hive at your home? Get started here.
Forecasting Chili Weather
As the temperatures drop, do you find yourself craving something hearty? Say no more! This chili recipe is nearly effortless and perfect for cold weather or game day! After all, chili gains flavor by being simmered at a low temperature, slowly over time.
What can you add to chili?
Add vegetables for a heartier stew
Add kidney or black beans (rinse and drain them well to rid of salt)
Add jalapeno peppers for extra spice.
Add beer. It's an awesome flavor enhancer! It also contains starch, so it'll help thicken the chili, too.
Add a topper such as sour cream, cheese, and chips!
How to Make Chili Thicker
Stir in some starch
Remove the lid
Mash the beans
Add tomato paste
Recipe: Robby Melvin | Picture: Caitlin Bensel |
Food & Wine Magazine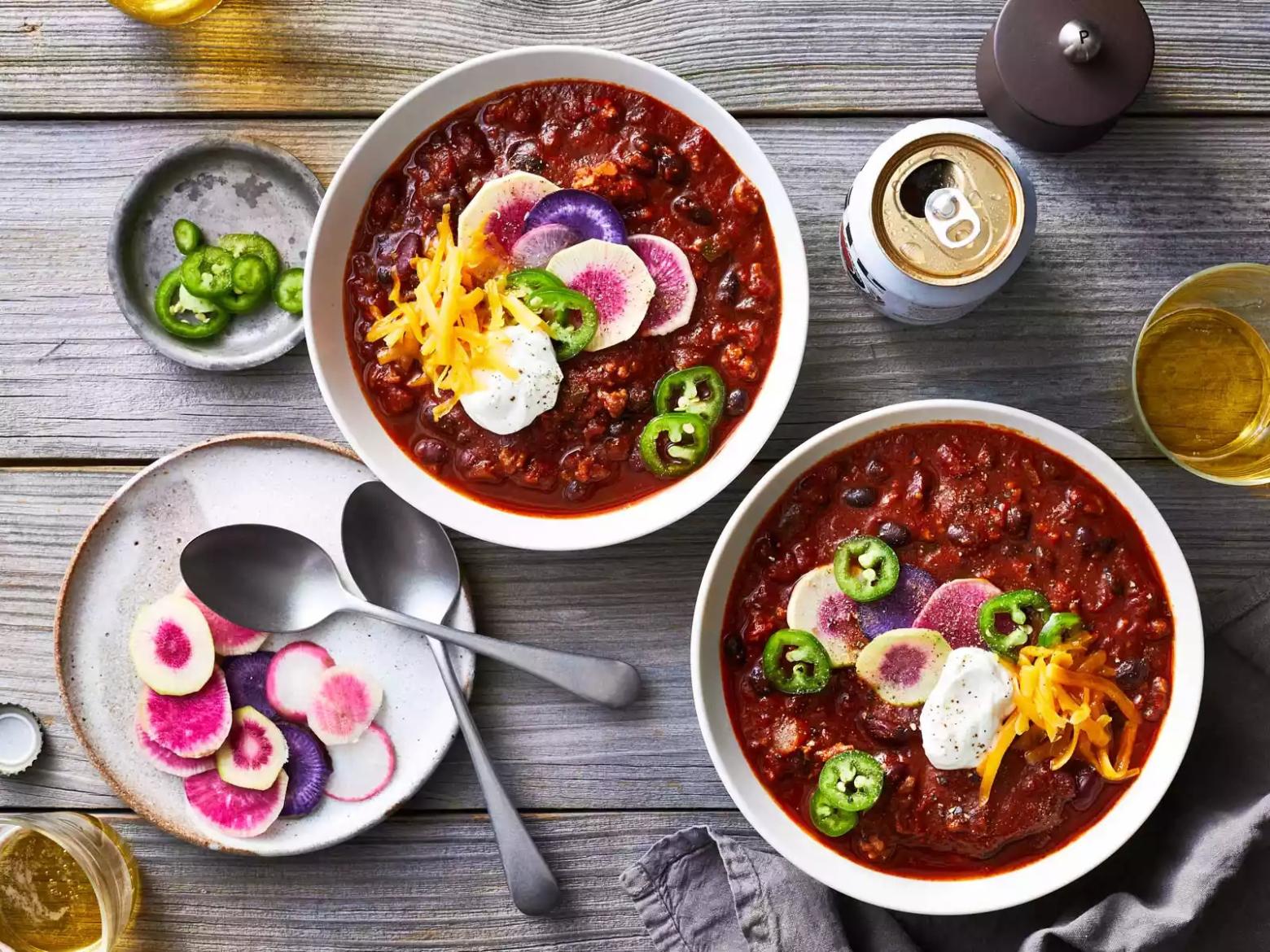 Prep Time 25 mins | Cook Time 30 Min | 8 Servings
Ingredients:
2 tablespoons olive oil
2 cups chopped yellow onion (from 1 large onion)
1 cup chopped poblano chile (from 1 chile)
8 garlic cloves, minced
3 pounds 90/10 lean ground chuck
1 (6-ounce) can n tomato paste
1/3 cup ancho chile powder
2 tablespoons ground cumin
1 tablespoon kosher salt
1 teaspoon black pepper
1 teaspoon fresh thyme leaves
1 teaspoon chopped fresh oregano
2 (15-ounce) cans of dark red kidney beans, drained and rinsed
1 (15-ounce) can of black beans, drained and rinsed
1 (28-ounce) can of crushed tomatoes
2 cups lower-sodium chicken broth
1 (12-ounce) bottle of beer
Shredded cheddar cheese, sliced jalapeño chiles, sliced radishes, and sour cream, for serving
Directions:
Heat oil in a large Dutch oven over medium-high. Add onion, poblano, and garlic, and cook, stirring often, until tender, about 5 minutes. Add ground chuck, and cook, stirring occasionally, until beef crumbles and is no longer pink 8 to 10 minutes. Drain beef mixture well, and return to Dutch oven over medium-high.

Add tomato paste, ancho chile powder, cumin, salt, pepper, thyme, and oregano, and cook, stirring often, for 2 minutes.
Increase heat to high. Stir in beans, tomatoes, chicken broth, and beer, and bring to a boil. Reduce heat to medium-low, and simmer, stirring occasionally, until heated through about 30 minutes. Serve chili with desired toppings.