Want to setup a bee-hive at your home? Get started here.
FLAIR® Equine Nasal Strip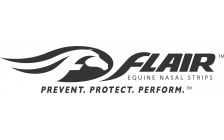 Developed by veterinarians, FLAIR® Strips are drug-free, self-adhesive nasal strips that promote optimum health of equine athletes, in all disciplines and every level of competition. Their spring-like action gently supports the soft tissues over the nasal passages to reduce airway resistance and improve airflow when your horse needs oxygen most. The Strips are clinically proven to make breathing easier resulting in reduced fatigue, conserved energy, quicker recovery and reduction in EIPH.