Want to setup a bee-hive at your home? Get started here.
DIY Fair Food We All Love
Funnel Cake
A fair favorite, made at home! You can enjoy crispy, fried funnel cakes with powdered sugar any time of the year with this easy recipe!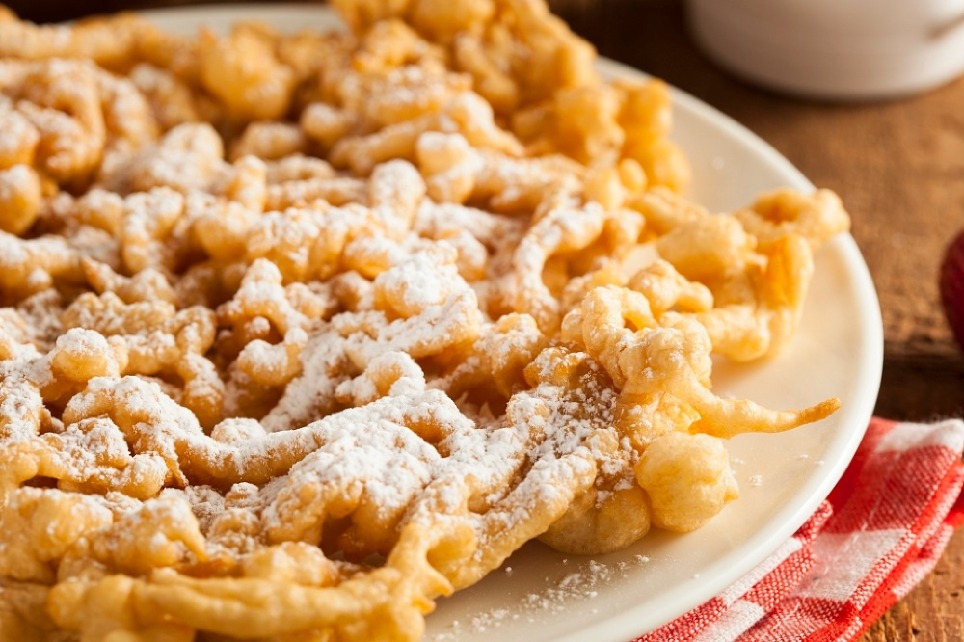 Prep Time 5 Minutes | Cook Time 4 Minutes | 2 Servings
Ingredients:
¼ cup milk
1 egg
1 tablespoon water
½ teaspoon vanilla extract
1 tablespoon granulated sugar
¾ teaspoon baking powder
1 pinch salt
½ cup all purpose flour
4 tablespoons powdered sugar
Directions:
In a large liquid measuring cup or batter bowl with a spout, whisk together milk, egg, water and vanilla.
Add sugar, baking powder and salt and whisk until combined.
Add the flour, and whisk until completely smooth. Set aside.
In a medium, deep-sided pan or pot, heat 1" of oil to 375°F over medium-high heat. When you put the end of a wooden spoon in the pot and bubbles form around the spoon, it's ready. Reduce heat to medium.
Drizzle batter from cup in a thin line, swirling around the pan and overlapping as desired. Cook for 2 minutes or until light golden brown, then flip and cook another 2 minutes or until golden brown.
Dust with 2 tablespoons powdered sugar and serve. Repeat one more time with the remaining batter.
Kettle Corn
You can easily have hot, freshly popped kettle corn at home with this easy stovetop kettle corn recipe. All you need is a large pot and 4 basic pantry ingredients for the best homemade kettle corn.
Prep Time 2 Minutes | Cook Time 10 Minutes | 8 Servings

Ingredients:
1/4 cup extra light olive oil (not extra virgin)
1/2 cup good quality, fresh popcorn kernels
1/4 cup sugar
table salt
Directions:
Heat oil with 3 test kernels in large, deep, heavy pot with tight fitting lid, over medium-high heat. Once all 3 kernels pop, your oil is hot enough to start popping the rest of the kernels.
Add popcorn kernels and sugar; stir and cover. Shake pot vigorously every few seconds (yes, every few seconds). I alternate between setting pot down to rest a few seconds and shaking it a few seconds. This is a bit of an arm workout, but it must be done so sugar/popcorn won't burn.
Once popping has slowed, remove pot from heat and keep shaking until popping ceases. Sprinkle evenly with a pinch or two of salt. Give it another good shake, and immediately pour kettle corn into a large bowl.
Break up clumps as needed, and let cool enough to eat. Store cooled popcorn in airtight container or zipper bag up to a week at room temp.
Churros
Churros (Mexican fritters) are very common at fairs. In my border hometown, the line at this stand is always overwhelming. People wait hours in line just to get a taste of these churros.
Prep Time 10 Minutes | Cook Time 10 Minutes | 4 Servings
Ingredients:
1 cup water
2 ½ tablespoons white sugar
½ teaspoon salt
2 tablespoons vegetable oil
1 cup all-purpose flour
2 quarts oil for frying
½ cup white sugar, or to taste
1 teaspoon ground cinnamon
Directions:
Combine water, 2 1/2 tablespoons sugar, salt, and 2 tablespoons vegetable oil in a small saucepan and place over medium heat. Bring to a boil and remove from the heat. Stir in flour, stirring until mixture forms a ball.
Heat oil for frying in a deep fryer or deep pot to 375 degrees F (190 degrees C).
Transfer the dough to a sturdy pastry bag fitted with a medium star tip. Carefully pipe a few 5- to 6-inch strips of dough into the hot oil; work in batches so you don't crowd the fryer. Cook until golden; use a spider or slotted spoon to transfer churros to paper towels to drain.
Combine 1/2 cup sugar and cinnamon. Roll drained churros in cinnamon and sugar mixture.